The Premier End of Tenancy Cleaning Services in Paddington
A to Z Cleaning is the premier choice for end of tenancy cleaning in Paddington. We understand that moving can be a stressful and overwhelming experience, and that's why we're here to take the burden of cleaning off your shoulders. Our team of professional cleaners are dedicated to providing a top-notch service that guarantees a smooth and stress-free transition for both landlords and tenants.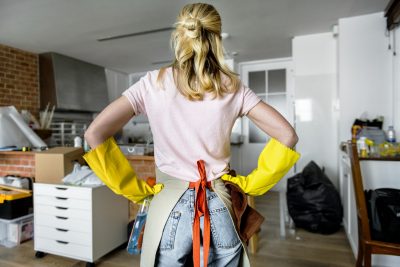 Our end of tenancy cleaning package includes everything you need to ensure that your property is left in top condition for the next tenants. From dusting, vacuuming, and mopping, to cleaning the oven, fridge, and bathrooms, we leave no surface untouched. We also pay close attention to high-traffic areas, ensuring that they are thoroughly cleaned and sanitized. Our team in Paddington is fully trained and experienced in all aspects of end of tenancy cleaning, making us the perfect choice for landlords and tenants alike.
At A to Z Cleaning, we only use the highest quality cleaning products, ensuring that your property is not only clean but also safe and healthy for the next occupants. We also provide eco-friendly cleaning options for those who are environmentally conscious. Our team is fully insured and vetted, giving you peace of mind that your property is in safe hands.
Our friendly and reliable team is available to work around your schedule, so whether you're a landlord or tenant in Paddington, we can work with you to ensure that the cleaning is done at a time that is convenient for you. We also offer flexible packages that can be tailored to your specific needs, and we will work with you to create a cleaning plan that meets your requirements and budget.
We understand the importance of leaving a lasting impression, and that's why we take pride in our attention to detail. Our goal is to ensure that your property looks its best, so you can focus on the more important aspects of your move. With our competitive prices, professional service, and attention to detail, A to Z Cleaning is the perfect choice for all your end of tenancy cleaning needs in Paddington.
At A to Z Cleaning, we take pride in providing our customers with a top-notch service that exceeds their expectations. We guarantee that you will be satisfied with the results of our cleaning, and if for any reason you are not, we will come back to rectify the issue at no additional charge to you. Trust us to make your end of tenancy cleaning experience as easy and stress-free as possible.
In addition to our end of tenancy cleaning services, we also provide other cleaning services like deep cleaning, regular cleaning, and carpet cleaning. We understand that every client is different and that's why we offer customized cleaning plans to meet the unique needs of our clients.
Contact us today at 020 3404 3303 to schedule your cleaning appointment and experience the difference that A to Z Cleaning can make in your end of tenancy cleaning experience. You can count on us to provide you with a hassle-free and professional cleaning service in Paddington.
Reviews
Got a great deal with you and managed to save on overall expenses of my moving. The team was brilliant, professional and friendly, what more can I ask for?